Happy Holidays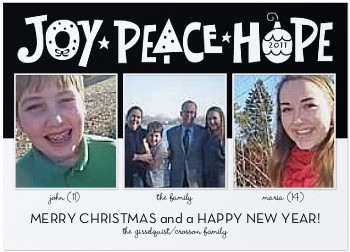 Now that the cards are "in the mail", it's OK to post the card and letter on site - for those not on the list - and those who prefer to view the holiday greetings electronically.
Christmas 2011
It's that time of year – time for the annual Crosson-Gisselquist Christmas missive. I've taken it to the limit this year, setting down to write this at 11:26 am on Christmas Eve.
What caused us to approach Christmas so late this year? We didn't even get a tree until last Sunday when there were only 21 trees left on the lot. Our family actually starts the holiday season earlier than most I suspect with auditions for the Rosetown Playhouse holiday show the week before Halloween. Maybe by the time the show is over (2nd week of December) we are done with the holidays?
This year's holiday show was The Ultimate Santa – a world premiere musical that asked what would happen if someone decided Santa was a tired, worn-out concept and then staged a reality TV to find his replacement – the new, ultimate Santa!. The kids and I had roles in the show, with Shana working behind the scenes selling tickets and other duties as a member of the Rosetown Board.
There was lots of drama this year – the theater kind – and music. The kind of sums it up, drama and music – with some school and work thrown in to keep us honest.
Maria (14 years) wrapped up 8th grade at the same school she had attended since kindergarten. Last summer she had a real (volunteer) job at the Children's Museum of Minnesota – the kind you interview for and everything! She spent several weeks helping little kids navigate the museum. Every day it was something different – face painting, helping with art projects, and more.
Maria is adjusting well to high school. This fall, she landed a big role in the Roseville Area High School's production of Urinetown: The Musical. She is enjoying high school and freshman life. Maria continues to sing with Project Opera's Giovanni choir.
John-John, or J-J as he is testing out as a possible variation, turned 11 this year. He is in 6th grade at the Friends School of Minnesota. Rather than another year with the Minnesota Boy Choir, JJ auditioned for "Opera Choir" (the Ragazzi choir with the Minnesota Opera's Project). Now we have two kids in Opera Choir which is fun for them, and makes chauffeuring logistics easier for Shana and me.
Shana said I didn't have to write anything about her – so I won't. That frees up more space for me and the kids.
In addition to the Rosetown holiday show, the kids and I had roles in the summer show – The Wizard of Oz. It was great fun – despite the weather – 90s and humid for most every show, held as usual outdoors at the Pavilion on Como Lake in St. Paul. We all played Munchkins – size was not a casting requirement for that role – in addition to other roles. JJ was Niko – the head monkey, the Wicked Witch's henchman – a role he relished. Maria was a Scary, and a Winkie (those castle guards). In addition to my Munchkin role, I was also a Winkie – and part of the tornado. Yes, we had people in the role of the tornado – lots of fun, but I found it more challenging than my younger twister companions to spin round-in-circles on stage without falling over. Could it be age?
John (the Dad) continues to work at Thomson Reuters. In addition to Rosetown acting, John serves on the Roseville Planning Commission. He's enjoyed it so much, that he has re-applied for another 3 year term. Cross your fingers – the Council votes in January.
Duke our Golden Retriever of indeterminate age is doing well – despite some nagging health problems. He has slowed a lot in the past year, forcing Shana and John to reconsider how they are going to get real exercise, as Duke walks SLOWLY – when he walks at all. Duke enjoys life with our three cats – Roscoe (the original), Patches (the short-term guest who has made herself a part of the family), and Reggie (the stray John found on a garbage can in the park). Many animals make for lots of fun.
We were shocked and saddened in early November when Shana's uncle Bub passed away.
We all keep thinking of "one more thing" we will miss about Bub. Summers at the cabin won't be the same without him. Who else knows all the good fishing spots? Who will help me clean the fish we do catch? I'm no good at it - and a lot goes to waste. Bub was like my Uncle Ole - he could filet a fish in seconds, and not leave any of the good stuff behind.
Bub's funeral provided several bittersweet moments, like the chance to visit the cabin in the off-season and pose for this family photo.
Happy New Year – John, Shana, Maria, and John-John