Wet Weekend
Can't say we need rain. Got plenty of it this weekend. Spent two days at the newly renovated Chez Crosson. Nice and dry. Who would have thought twelve years ago - when I first visited the cabin - that I would be standing in front of a gas fireplace with a remote in hand puzzling over the proper settings. Is that #2 for heat, and #3 for fan - - yes that's it! Gone are the days of trudging out to the shed, chasing away the rodents to grab a log or two, then trudging back to the damp, cold cabin to try to start a fire. Oh - and all this had to be done quietly for fear of waking the Crosson women. Never wake a sleeping Crosson woman.
Highlights:
Fishing
- During a break in the rain the Dude, Dad, and M got to dip their lines in the water from the neighbor's dock. Amazing fishing - we caught bass, sunnies, and rock-bass. Probably a dozen in 30 minutes, before the cold, damp weather chased us back inside.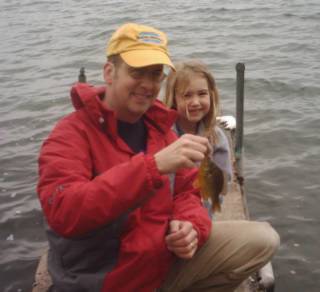 .

No Bread
- I mean "Demon Carbs". In the past we could count on H for a pre-cabin visit to Breadsmith or some other specialty bakery. The cabin stocked was well with many exotic breads - but no more. Breads are carbohydrates - verboten under the South Beach Diet (SBD). As long as H & J remain on the SBD, I will have to supply my own bread. At least I don't have to step outside to eat it - yet.
On a brighter note, H had a wonderful recipe for scones from Doctor Weil. Very good, and incredibly healthy! There may have been carbs involved, but I didn't say anything. Thank goodness Goodman's Sausage doesn't have carbs - though I don't think any of us want to explore the ingredients too closely.
Home Front
- A busy day back in R-Ville. Completed the raised vegetable bed. Many wheelbarrow loads of dirt for that. Lord knows I will feel that tomorrow. S was able to plant the first "crops" - beans, peas, carrots, beets, asparagus, lettuce, and zucchini.